More Swap Stuff
Going to the mailbox has taken on a much more positive turn these days. Yeah, the same old bills are still there (hi everyone down at the IRS!), but there's also YARN. Lots of yarn. Yarn I didn't have to pay for. Thank you Swap Gods.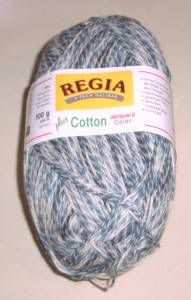 Today's delivery seems to be commemorating the 4th of July. The Wildfoote I've never even seen around here before and it's quite lovely. Maybe a pattern with cables? I also like the Regia Cotton. The only other cotton sock yarn I've knit with before is the Sockotta and I don't honestly care for it. The Regia seems a heck of a lot softer. Summer socks here we come!
"The Sock We're All Tired Of Hearing About" is still not done. I tried. Really I did. I went to Commuknity and worked on it, I came home and worked on it. I am half an inch from the toe shaping. As God is my witness, not only will I never be hungry again, I'll also have this dang sock finished TOMORROW.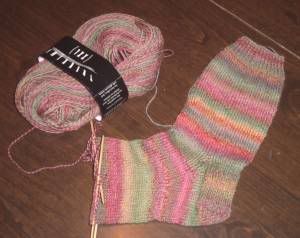 So Close And Yet ... So Far
In addition to finishing the sock tomorrow (well technically *today*, why am I still up?) there is also a planned expedition to Yarndogs in Los Gatos. Rumor has it there's a sale on ...