Sock Talk
Progress is being made on "The Sock." I've got about 1/2" more to do before the toe shaping. So of course I'm already thinking about the next sock pattern. One of my favorite places online to pattern shop is The Knitting Zone. Why? Because a good portion of their patterns are available for download. There's that old instant gratification thing again. Just pay your $5.00 or whatever the pattern costs and presto! no waiting for the mailman to show up. And while I was browsing this afternoon I came across this little number from Wildhorse Designs ...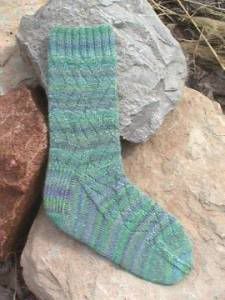 April Fools Sock
Wow, I'm only on my first sock and already they're naming patterns after me! How cool is that? Of course trek has an entire line of sock yarn named after her but she's been at this longer than me.
I was reviewing my sock yarn stash today and it really is quite pitiful. We're talking six skeins/balls of sock yarn. I have my two BEAUTIFUL skeins of Sundara handpainted yarn that my Secret Pal sent me. I've got what remains of the ball I bought for Sock School and it's only a 50g ball. There seems to be an entire ball of Fortissima Socka but I would need to weigh it to be sure. And then there is a mystery ball that I *think* might be Lang Jawoll. Who knows where the ball band went. I also have this ...
Austermann Step - Color # 10
Which knits up like this:
Funky, no? Not only is it funky looking but it comes "mit Aloe Vera und Jojoba Oil." How's your German? Not so good? OK, it has Aloe Vera and Jojoba Oil IN the yarn. Seriously. It's supposed to last for like 40 washings. Has anyone worked with this yarn? It's quite soft and squishy. Although something just occurred to me. Does that person's feet look like they've been splattered with blood? Have I been watching too many episodes of Law & Order? Let's move on.
I am seriously lusting after this book ...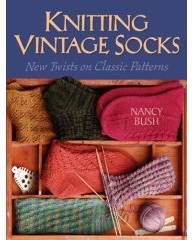 As has been mentioned ad nauseum in this blog, I am a traditionalist. And this book just gives me goose bumps. I sat down on the floor of Barnes and Noble this afternoon and studied it page by page. There are some seriously beautiful socks in here. In fact, I would love to make every single one of the patterns in this book. Twice even. Alas, I showed remarkable restraint and left it on the shelf. Next payday will be here soon enough.