Oh Hell Yeah
As hard as it may be to believe ...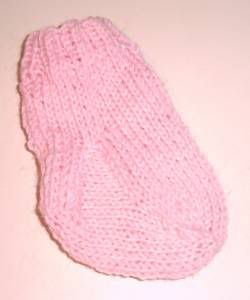 A Sock
Oh hell yeah. And can I get a hallelujah along with that? It's a sock. A sock knitted by me on DOUBLE POINTED NEEDLES. With all manner of socky things, like a gusset and a heel flap and a kitchener toe. Let us ignore the fact that it's all of about 3 inches long and find out how this miracle occurred.
First of all a big shout out to my new best friend, Emy, at Commuknity. Little did she realize she was getting a sock-a-phobic in her Sock School today. A determined sock-a-phobic but a sock-a-phobic nevertheless. But with unwavering patience she managed to teach me the fine art of sock knitting. There were a few tense moments like when I couldn't remember how to pick up stitches (hello? how long have you been knitting?). And if you had seen me holding those DPN's in my hand at the beginning of the class you would have thought I was holdin' a bunch of chickens upside down. Those sticks were a flappin'. Unruly buncha toothpicks.
But at the end of the class there was much cheering and shouting as I waved my little sock in the air. You may now refer to me as "April, Knitter Of Socks."
In other news ... I am seriously behind in making blankets for Project Linus. And adding to the guilt I feel over that is the fact that they've finally put my name up on the site as a bona fide "Blanketeer." So someone needed to get busy this weekend. Well busy last night anyway ...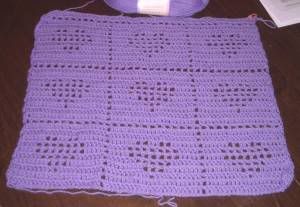 Tiny Hearts Blanket
Nothing like crochet to get things happenin'. I still have one more row of hearts to do and then some type of edging. But hopefully it'll be finished tomorrow. This is a preemie blanket done in Lion Brand Baby Soft using an "H" hook. The finished measurement is supposed to be 18" X 20" but I think mine is going to be a bit bigger. This is a super simple pattern once you get past the mistakes. Repeat after me pattern writers, "Testers are my friends and should be coaxed into service before I publish my pattern."
Wilma says,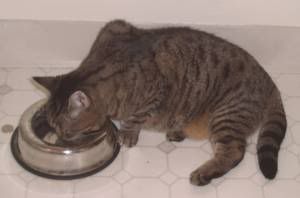 "Why stand when you can lay?"