I'm Not Kidding
I may have mentioned this before but in case I haven't ... I love knitting children's sweaters. Why? Well they're fast. You can use really great yarn because you won't need a whole lot. You can go crazy with color because kids like color. And if you're really lucky, you'll find a designer who likes to design patterns heavy on the "whimsical side". Who wouldn't want a child dressed up as a Stegosaurus?

If I was a kid, I'd never take this sweater off. This is one of the patterns from the collection I bought yesterday, "Knitting Patterns by Melissa Matthay - Toddlers To Tots." There are 18 (I think) laminated cards, one project per card, and they're all just as cute as the Stegosaurus.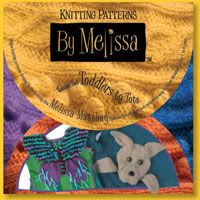 And bless her heart, Melissa offers either the entire collection as a set or you can buy the individual patterns for $5.00. Just in case your child doesn't want to be a Stegosaurus. She also has a set for babies. No, I don't know Melissa and no, I'm not receiving any compensation for promoting her patterns. I simply happen to think they're adorable. Check out her online store, you might think they're pretty darn cute yourself.
It's Thursday which means Herrschner's has updated it's HOT YARN BUYS. I'm thinking about ordering like ... ten skeins of this -
I like variegated yarn. Especially when it's only $1.97 a skein and it's made by Plymouth. And since it's 56% cotton, 30% acrylic and 14% nylon it'll make a nice summer yarn. Here's the link, if you should be so inclined.
Finally, the winner of "Knit Lit" will be announced later today. Err, I forgot to pick a name last night. I was cranky.