Good-bye Cable Needle
I am still besotted with Besotted obviously. She's now reached 25" in length which means she's almost half done. I won't be putting any fringe on her because I don't think fringe and cables are a good match. But that's just me.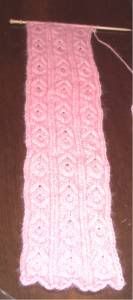 But I'm even more besotted with her now that I've learned how to cable without a cable needle. Thanks to the wonderful Wendy of WendyKnits and her dead easy instructions (left twist cable and right twist cable) I no longer have to walk around with a cable needle stuck in my head. And I get a much neater looking cable than I did with a cable needle. Or at least I think so. And it's a heck of a lot faster. Which means I can hopefully have her done by Thursday when I need to teach the Silicon Valley Stitchers how to knit lace. Because that's when we're starting our very own Knit-A-Long with Branching Out. Have I knit lace before? Well sorta ... Am I an expert? Far from it. But I hope to be at least competent by Thursday.
And then when Branching Out is done I can either start on the Irish Hiking Scarf or this!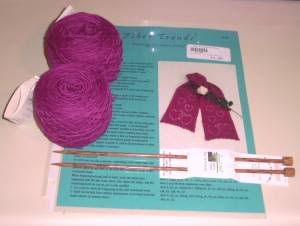 This is Fiber Trends Falling In Love scarf. I've been lusting after this scarf pattern for a while but kept putting off buying it because it has a PROVISIONAL CAST ON. Now 20 years ago, when I first started knitting there was one way of casting on and that was the long tail. Everyone cast on that way. Now there's like 600 hundred ways to cast on. Truly, it boggles my mind. Knitting has gotten way complicated in the last few years and frankly, I'm a little annoyed. When I looked at the pattern and saw that I needed to do a provisional cast on I got my knickers in a knot, pouted and simply refused. Obviously I was suffering from "old fogey syndrome." But surely if I could walk 20 miles uphill in the snow to school I could do this new fangled cast on. On the left, Lorna's Laces "Sheperd Sock" yarn. Pretty color, no?
From the "My God, She Once WAS A Child" file ...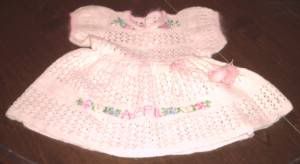 A few months back my Mom sent me a box with some yarn and two dresses in it. At first I thought she'd knit dresses for the cats (you never know with my Mom). But upon closer inspection of the dress above I noticed this:
Since my cats are Wilma and DeeDee and I'm the one who's April, I think we can safely assume this was one of my baby dresses. Because Lordy knows, it sure wouldn't fit me now.