On The Mend ... Finally
After a brief tune-up at the hospital this morning I am happy to report I am finally on the mend and feeling about 100% better. And a very big thank you to Kerry for coming to retrieve me. So what do YOU usually do after a trip to the hospital? I bake.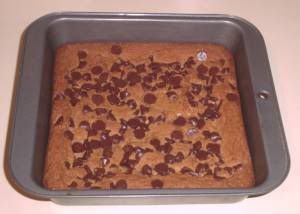 Blonde Brownies
This is one of my favorite recipes because a) it's foolproof, b) it doesn't use obscure ingredients and c) it tastes like chocolate chip cookies in bar form. You can have a pan of these in and out of the oven in under 30 minutes. Here's an online recipe that is very similar to the one in my cookbook.
Summer Scarf Swap
So I'm feeling pretty good, I've got something tasty to munch on and then the UPS dude brings this! Over at ol' Crochetville we had a Summer Scarf Swap and this is what I got. Two beautiful scarves, the one on the right is actually a very pretty mint green. As opposed to the rather icky color it is in the picture. Two Moonpies which have to win the contest for most brightly colored food (neon yellow and orange), a bar of gorgeous pine scented soap from Rhode Island (Rhode Island!) and a lovely card with poppies on it. I've had to hide the bar of soap because ... well ... Andy wants to *eat* it. Why does my cat want to eat soap? I swear, I don't know where I went wrong with him.