Fish Sticks
After an evening of knitting, here is the start of the Irish Hiking Scarf in the color way "Brook Trout."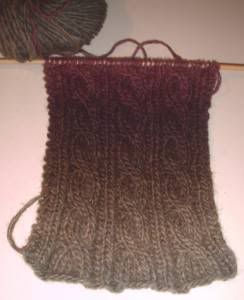 What do I think about Knit One Crochet Too's "Paint Box" yarn? Well it's definitely 100% wool, complete with "vegetable matter" and a hearty dose of lanolin. And, truth be told, it's makin' me a bit itchy. This would have to be an "outside the coat" scarf, not a "next to the neck" scarf. I can't say I'm crazy nuts about the color either, even though the color at the bottom is actually more of a heathered moss green, as opposed to the grey brown shown in the pic. I think this yarn choice may be a bit of a bust. However, if I was a felter this would probably make a very cute fall purse. Do you felt? Write me, maybe I'll send 3 balls of Paint Box yarn to you. The search continues ...
But not all the mail that came today was a total loss. Amazon.com is having a "Buy 3, Get 1 Book Free" sale and some of the books are CHEAP. Like these two.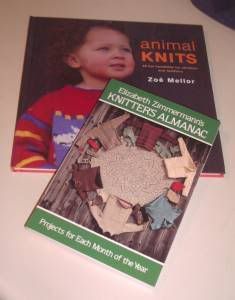 The "Animal Knits" book has some unbelievably cute patterns in it.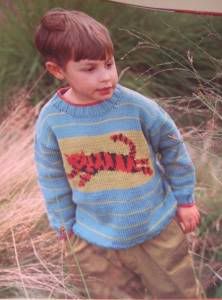 Tiger Sweater (a most descriptive name)
It's a British book so most of the yarn used in the patterns is Rowan. I don't know about where you live, but in the Bay Area Rowan yarn is everywhere. I can remember when I first started knitting back in the mid 80's and Rowan was the creme de la creme of yarns. If you invested in Rowan yarn to make a sweater you were definitely making an heirloom. Now it's as common as Simply Soft. Not quite as inexpensive, but definitely as plentiful.
In other knitting news, Branching Out is finished (except for blocking) and Besotted has maybe another 50 rows to go. Since the purchase of more yarn for the Irish Hiking Scarf will have to wait until next payday I may have to go stash diving if I want to start another project. Imagine.