No Tears Lace
First, let's have a definition.
faggot - 1) A bundle of twigs, sticks, or branches bound together.
Now, let's have a picture.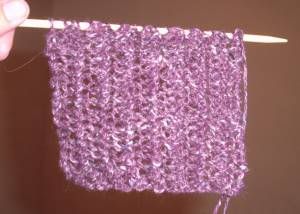 Cameo Faggot Stitch Scarf
This is what you get when you take this pattern, some sport weight yarn and knit it up on US size 8 needles. I realize this is a crappy picture but there are long ridges with holes between them. And it looks kinda like lace. And I like it. This is SO easy you could do it the first time you ever picked up a pair of needles. People would think you were SuperKnitter. I'm using (from my stash) Rowan Felted Tweed which is 50% merino wool, 25% alpaca and 25% viscose. It's recommended needle size is 3 - 5 which is why my scarf looks nothing like the pic that goes with the pattern.
And in her first public appearance, I present to you the very beautiful Fleur.