Somebody Loves Me!
I hereby declare my "Other Secret Pal" the very best Secret Pal in the entire world. And you should all be horribly jealous that I have such a wonderful secret pal. Because after a craptastic weekend and a tedious Monday I came home to the following ...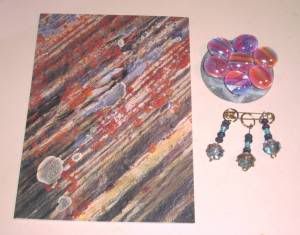 Fabulous gifts #1, 2 and 3
To start, a very beautiful card with nice things written about my blog inside, an incredibly pretty paperweight (at least that's what I'm going to use it for) and Divalicious stitch markers. My first stitch markers that aren't made from plastic! Hooray! Andy is *quite* fascinated by the stitch markers.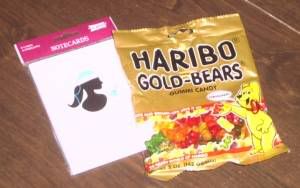 Fabulous gifts #4 and 5
Cute cute cute note cards and mmmm ... Gummi Bears. The very best Gummi Bears too! Not some cheapo Walgreen's brand. Nope, these are the original brand and highly prized by Gummi Bear afficiandos. They make a wonderful lunch with a can of Diet Coke.
Fabulous gift #6
How cool is this? Anyone that does any serious cooking knows that Oxo Good Grip cookware is the BEST. And the timing couldn't be better because I've been using my other measuring cup to refill Ralphie's fish tank. Which is kind of icky. I love kitchen stuffs!!!
Fabulous gift #7
And if Fabulous Gifts 1 - 6 weren't enough OH MY GOD IT'S SUNDARA HANDPAINTED SOCK YARN. Ladies, please ... wipe the drool off your chins. The color way is "Mixed Berry" and truly, have you ever seen more beautiful yarn? It looks even better in person but I'm not going to show it to anyone for fear they may try and steal it. I'm going to have to work on my sock knitting skills for a few more months before I even *think* about using this.
So clearly, I have the best Other Secret Pal in the whole universe plus infinity.
THANK YOU SECRET PAL !!!