Bits And Pieces
There were a few things in the mail for me today, all purchased before I went on my yarn diet. Pinky swear promise.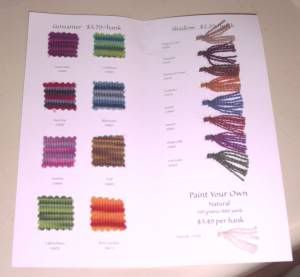 A shade card from Knit Picks for their Gossamer and Shadow lines. I figured for $1.50 it would save me a lot of grief in the long run once my sock obsession is over and I go back to being obsessed with lace. And along with the shade card was one teeny tiny skein of yarn.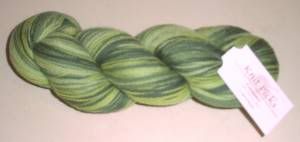 Knit Picks Gossamer in "Leprechaun." This will make a pretty scarf for the fall I'm thinking. Maybe the Oak Leaf And Acorn pattern. If I ever get to be that accomplished of a lace knitter. And if I ever become a scarf wearer.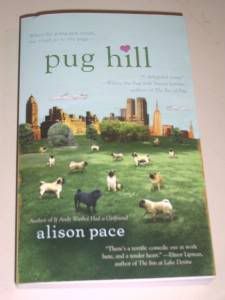 Pugs, pugs, pugs, oh how I love pugs. When I was married I had a "chug" which is a cross between a chihuahua and a pug. She was the lovely fawn color that chihuahuas come in but her body was all pug. Her name was Fanny. My ex-husband made me get rid of her after she ate the hamster. OK, well she ate MOST of the hamster. She left enough pieces behind as to leave no doubt where the hamster had gone. I apologize if anyone is reading this while they're eating. I guess I should have put up a disclaimer. Anyway, I'm sure a pure bred pug wouldn't eat a hamster, it was probably the cross-breeding that did it.
And speaking of strange animals, here is the mentally challenged creature known as the "Furry Wiggleworm" just moments before falling off the dining room table.