Toast Me
Here at the Weaving Inn, we continue to bobble along. This particular square is called "Band of Bobbles" for obvious reasons. This square is also driving me crazy because every time I think of the name it reminds me of that early 70's hit, "Band Of Gold."
Now that you're gone,
All that's left is a band of gold
All that's left of the dreams I hold
Is a band of gold
And the memories of what love could be
If you were still here with me
Such a cheerful little ditty. You'll be humming it all day long.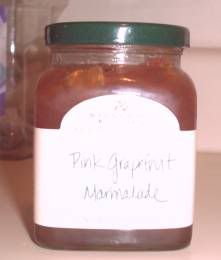 Am I the only person who posts pictures of food in their blog? Probably. This is a jar of marmalade that I bought at Draegar's on Sunday. Draegar's is a very upscale grocery store with locations in Los Altos, Menlo Park and San Mateo. It's almost the type of grocery store that makes you wish you'd put on makeup before you walked through the doors. And left the sloppy sweat pants at home. So of course you have to buy things you can't get anywhere else. Like Pink Grapefruit Marmalade. Mmm, mmm, mmm, I love me some marmalade. Especially if it's served on toasted wheat bread with lots of butter and a big cup of tea on the side.
Now this is the part where you need to pay attention; the key word in the previous sentence is "toasted." This week we're forgetting about Canada and instead concentrating on a much more important subject. Toasters. Of course I own a toaster. And it's the worst toaster in the world. But what would you expect for $9.99? Something that actually ... toasts? So the hunt is on for the world's best toaster.
Which is where you, loyal reader, come in. I know nothing about toasters. Which is probably pretty obvious considering I thought $9.99 would get me a good one. So now's the time for you to go in your kitchen, check out your toaster, and write a short review on why your toaster is THE best toaster in the world. Or maybe it's not the best toaster in the world. Maybe your friend Gladys has the best toaster in the world. That's cool, tell me about her toaster then. Help me find a toaster.
Come Friday (aka payday) I will choose my new toaster based on the best review written and march down to Fry's and buy one. I know that this is a serious responsibility you are taking on, pointing me in the direction of a new toaster and all, so of course you will be compensated accordingly. In yarn. Please, no epic toaster reviews. Just tell me does it toast evenly, can you actually retrieve the bread from the toaster, is it wide enough to toast a bagel (mmm, toasted bagels), you know, important toaster stuff. Post it here in the blog so we can all read about your amazing toaster.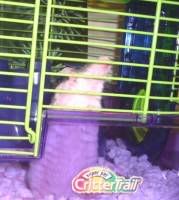 Lily says, "Does this cage make me look fat?"