It Must Be Spring Somewhere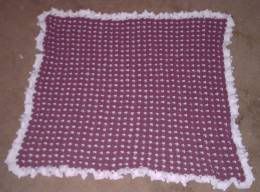 Ta da! The Peek-A-Boo, renamed Snowdrops On Roses, afghan. Finished as promised last night at the Santa Clara Valley Crochet Meet-up. Well, almost finished. There's that little task of weaving in the ends that still needs to be done. There's also the issue of where this little blankie will end up. I'm pretty sure Project Linus only accepts 100% acrylic blankies and this one is 20% wool / 80% acrylic. But it's machine washable. I shall have to investigate. Stay tuned.
Yesterday I made a false claim. I stated that I was going to make the lovely white sweater on the cover of "Crocheted Sweaters" with yarn purchased at the Knitting Arts fabulous 30% off winter yarn sale. Alas, the only yarn on sale that I liked and that would have been suitable for this particular project would have ended up costing me $88.00. No. Nope. Never. If I was making it for myself ... maybe. To be given away ... not happening. So let's switch gears and think SPRING!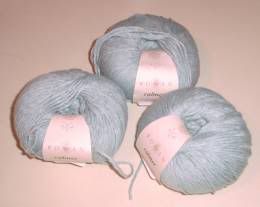 Ooo, can't you just taste the minty goodness? This is Rowan's "Calmer." Is that a great name for yarn, or what? In fact, this particular shade is "Calmer." So it's actually "Calmer Calmer." I think the Gods are speaking to me. Anyways it's 75% cotton, 25% Acrylic/Microfibre and it's wonderful. I'm not a big fan of cotton because it can be a bit stiff and occasionally a little on the rough side. But the acrylic in this yarn makes it feel like silk. As well as giving it a bit of elasticity. Another bonus. This may be my new favorite summer yarn.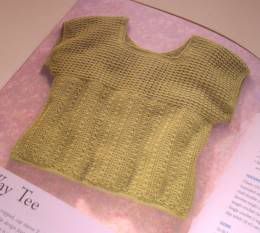 So these lovely little balls plus two more will be turned into this. Which was also on the cover of "Crocheted Sweaters." In fact, I've already crocheted and frogged four rows so I'm off to my traditional start. And YES, I did a gauge swatch, thank you very much. The reason for the "froggage" was because the instructions said, "ch 39, sc in 2nd st, blah, blah, blah." Well the gauge for the sweater was 15 ch = 4". I did the math. If the instructions were correct, then the front of my sweater would be 10.4" wide. It was supposed to be 20". Was I destined to be a pattern tester YET AGAIN? Read. the. instructions. April. The bottom of the sweater is crocheted SIDEWAYS, then you pick up the stitches along one side and crochet UP. Who would have thought? Not me. Obviously. And no, I'm not telling who this is for. Not me. Obviously. Not if it's only 40" around. Ha.