Knit One, Purl Two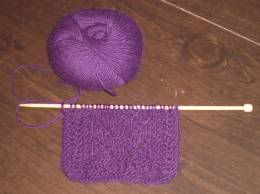 Better? I think so. This yarn is from Nashua Handknits and is 75% wool, 25% alpaca. I got it at The Knitting Room (that makes 2 trips to The Knitting Room in one week) and was a very reasonable $8.50. I seem to have gotten the knitting bug again and thanks to my lovely ergonomic harness thinger I can knit practically pain-free. Now if I could just get Andy to stop chewing on the ends of my bamboo needles, life would be grand.
Here's the label from my all-time favorite Canadian beer. Which must mean it's time for another "Made In Canada" contest question. Hooray! Today's question is - who is the Canadian equivalent of George Bush, what is his official title and which political party does he represent? I know, that's actually 3 questions in one but the winner of this one gets a 16 ounce box of Godiva truffles. So it's worth the extra Google time. Post your correct answer in the blog, please do not enter if you've won in the last four weeks since we must be fair to everyone right? I'm so Canadian sometimes.
INVASION OF THE TABBY TOWER !!!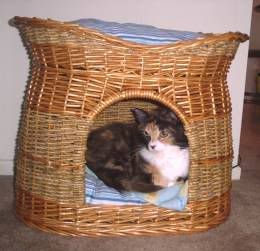 Wilma is NOT amused; Andy is, as usual, possessed.