Your New Best Friend
This is my co-worker, Iris. She's a delightful Greek lady who is either working very hard or laughing very hard. Between now and Wednesday morning you'll be wanting to send her all kinds of nice thoughts.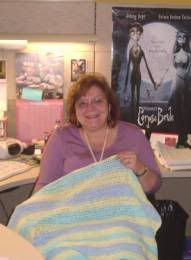 And why would you want to do that? Well because come Wednesday morning Iris will be drawing the names of the two people who are going to win the Heartmade Blessings baskets. Actually, we need to clarify something here. When I originally thought up this contest I figured I'd have one pretty little basket with a few balls of yarn in it. What I've ended up with is a 58 gallon Rubbermaid container. The best laid plans and all that. So, I apologize. There will be no baskets. There will be other items, as seen in this blog, but there will be no baskets. But if you had your little heart set on getting a basket, heck I'll kick in $5 and you can go down to Michael's and pick out your own basket. Good luck finding one big enough.
Back to Iris. The reason that Iris will be drawing the names is because I have personal friends who are entered in this contest. And we don't want any hints of impropriety being tossed about. This is not the White House, it's The Weaving Inn. So, Wednesday Iris will pick two random names and I'll run back to my little desk where I should be working but instead I'll post the names of the two winners. Sound good? I thought so.
OK, so you're gonna win all this wonderful stuff but April flaked on the basket. What are you going to carry all your FANTASTIC PRIZES in? I suggest this FANTASTIC PRIZE right here.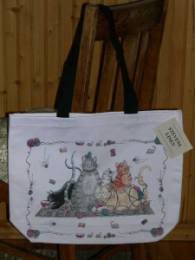 No, I have no idea why I can't get this picture any smaller. I made it smaller in Photoshop and when it loads it gets bigger. But oh well, at least you can see the detail better.
Edit: OK, now the picture is the size I wanted it to be. And I didn't do anything to it. I wish the little men who live inside my computer would just move out and quit torturing me like this.