I'm Excited
Ladies and gentlemen, let's cut right to the chase here. No more beating around the bush. No more dragging our feet. No more dillydallying. Because admit it, you've been waiting months. Some of you may even have been waiting longer. You've checked Amazon.com far more times than you'd care to admit. You've fretted over "publishing delays." You've erected altars to the Yarn Gods and burned jasmine incense. Ladies and gentlemen, I'm here to tell you the wait is over. Finally. And not only is the wait over, it's our next FANTASTIC PRIZE !!!!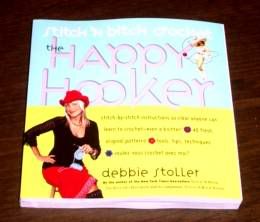 Oh. My. God. Yep. Stitch 'N Bitch Crochet - The Happy Hooker. One of our many FANTASTIC PRIZES. Am I the Prize Goddess or wut? For only one teeny tiny little 12" square, this pristine, hot off the press copy can be YOURS. Even better, I bought myself a copy at the same time. So I wouldn't umm ... make copies of all the patterns in your copy. So it will be in immaculate shape when it arrives in YOUR mailbox! Wow.
And I am doubly excited! Because look what came in my Beautiful Birthday Box today from my Mummy!
Is she the greatest Mummy in the world or what? Twelve balls of my all-time favorite yarn Bernat Satin. Now I know I've said that Simply Soft is my all-time favorite and you're probably thinking I'm just fickle. But you see, they don't sell Bernat Satin in the Bay Area. Therefore my stash comes from CANADA. So ... Bernat Satin is my all-time favorite CANADIAN yarn and Simply Soft is my all-time favorite AMERICAN yarn. I have dual yarn-ship. In addition to my 12 (woohoo!) balls of Bernat Satin, there are 4 balls of Paton's Grace which is a mercerized cotton and one huge ball of Phentex Craft Cotton. Please note: the nosey cat on the right did not come in the Birthday Box.
Ever wondered what $30.00 in Canadian 50 cent stamps looks like?
I'm thinking someone at Canada Post has far too much time on their hands.