Zen Crochet
You know how sometimes you just want to crochet and veg. Not think about pattern repeats or changing colors. No counting, just stitch stitch stitch. Well when I feel like that, this is what I work on. This is square 5 of 12 for the Crochetdude's Monet Afghan. 1 sc 2 dc in each sc, all the way across. You end up with shells that look like they're swaying back and forth. Throw in a little Red Heart SS in "Waterlilies" and this is what you get. Something simple, yet effective. So I worked on it tonight at the weekly meeting of the Silicon Valley Stitchers. I need to get this DONE.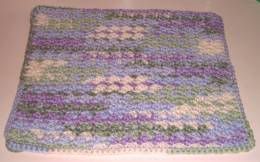 Well what have we here? I do believe this is today's FANTASTIC PRIZE. I've lost track of the numbers so now everything will simply be a FANTASTIC PRIZE. Two skeins of Cascade Yarn which is somewhat obvious by the large labels in the picture. 100% wool. They're two different weights but you could probably make a little purse with them and felt it. Or something. Apparently I'm still in a Zen state of mind. And I have a cold. Woe is me. And a new co-worker who thinks my name is "Rachel." But let's not get into that.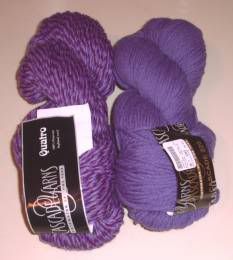 Lily and Daisy say, "Give us liberty or give us PEANUTS!"