Knit, Knit, Knit
It may surprise some of you to hear that I have not been spending all my free time sitting in a goat pen. Oh no. Not even.
For at this very moment I am embroiled in the bitterest of conflicts, the height of subterfuge, the pinnacle of mortal combat. I am participating in ...
SOCK WARS 2006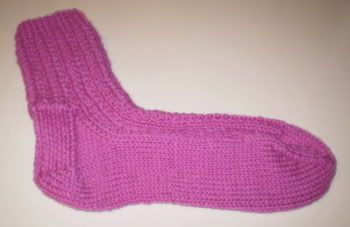 Behold, my first weapon! Knit secretly on Debbie Bliss Merino DK, using my arsenal of US 5 DPN's this is the
SOCK OF DOOM
. OK, so maybe pink isn't a very doom-like color but work with me here. This battle has been a struggle from the get go. First, well ... I forgot I signed up. Then my dossier with the pattern and my target was five days late getting to me. Something about a hurricane in the north of England? I don't know. But once I got my troops lined up we were off and running. As I finished the heel I realized I had taken a different route from the original plan of attack and had to call in my Five Star General,
trek
, for technical assistance.
I've now completed the ribbing on my second weapon and am desperately hoping to launch my offensive before my assassin tracks me down. Wish me luck, comrades, it's a messy business this war stuffs.
Awaiting my return from battle is this little bit of loveliness ...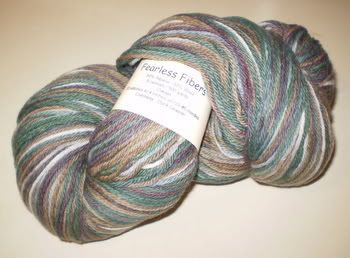 "Duck Season" (will the killing never end?) from Fearless Fibers. In a light worsted weight, or alternatively, a heavy DK weight. I'm going to use it to make more Socks of Doom because frankly, this pattern kicks serious buttage. The more observant of you will notice that I have willingly purchased a yarn containing both blue AND brown. And we all know that brown plus blue equals ewwww. But not when it's a representation of nature, as in Mallard Ducks. That's April Logic for you.