A Mixed Bag
As promised ...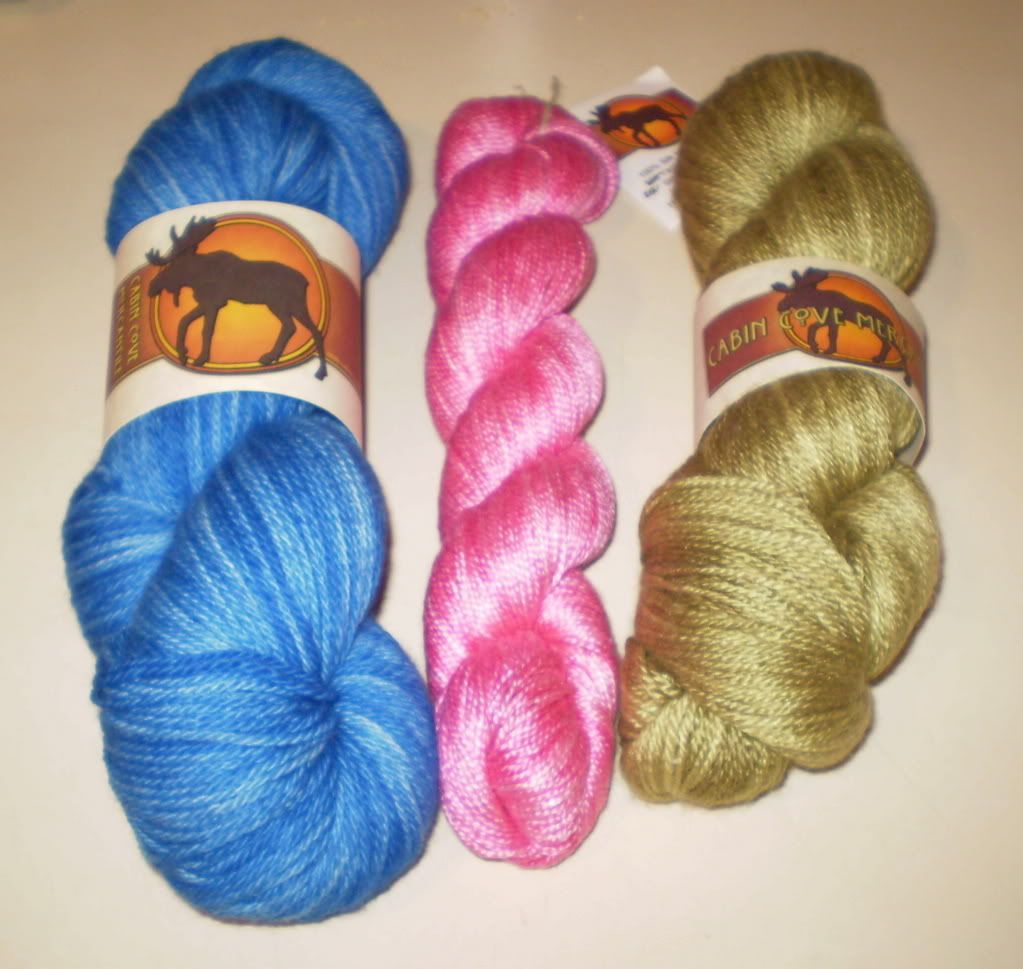 More works of art from the VERY talented Dave, over at
Cabin Cove Mercantile.
From left to right, Blue Sky in 100% merino, Bitchin' Barbie in 100% silk and last but not least, my personal favorite, a blend of 50% wool / 50% silk. No specific patterns in mind for any of them (suggestions welcome) but all extremely fondle-able. Is that a word? Oh and a very big THANK YOU to Dave because I did not order the Bitchin' Barbie, it was included as a giftie. Cuz he's just that nice, our Dave is.
You know how some *old* people get set in their ways? They refuse to embrace modern technology after having had to walk six miles uphill in the snow to get to school? Yeah, that's me. This is my new camera. The one I bought oh ... two weeks ago. I don't like it. Why? It's got one of those big honkin' viewfinders on the back. So that you don't need to hold it up to your face to see what you're taking a picture of. So that you can share pictures IMMEDIATELY with family and friends. I don't WANT a big viewfinder. I want a little viewfinder. Dagnabbit I've spent 30 odd years taking pictures with a small viewfinder, I can't change now.
Therefore, my purchasing error may be your gain. I'm sellin' this little beauty for the low, low price of $75.00. Regular price was $149.00. I'm also throwin' in a xD card so you can take OH MY GOD 150 pictures. And I'm also throwin' in one of the many card readers I bought for it. PRIORITY shipping included. Wow.
It's almost that time of year again. That magical time where I attempt to drive myself insane by writing a novel of 50,000 words in ONE MONTH. Oh yes, November 1st signals the return to late nights, lots of coffee and a steady intake of chocolate. For those of you who may be mathmatically challenged that means I'll be writing 1,667 words a day. EVERY DAY. Because if you miss more than a day, you're doomed. I managed to finish in 2004, got stuck at the starting gate in 2005 and am all fired up for this year. If only I had a plot.
What fabulous prize will I win if I finish my 50,000 words by November 30th? Umm ... a link to a site where I can download a suitable for framing certificate of accomplishment. Whoa.
Are you with me? Sure you are! More details on National Novel Writing Month may be found here. You may even want to purchase a digital camera to record this stupendous event. I'm just saying.