When In Canada
... one should buy Canadian yarn. Or at least yarn imported by a Canadian distributor.
Yes, I brought my camera to Canada. No, my Mother does not have a card reader. I'm off to investigate the local Kinko's tomorrow to see if I can somehow get my photos uploaded. In the interim I'm stealing other people's pictures.
This is Needful Yarns "Piccadilly." It is 54% nylon, 24% acrylic, 20% mohair and 2% lurex. Not the most natural of yarns but I really like it. My Mother happens to live down the street from a yarn shop called "Wool And Wicker." It is a delightful little shop but it's also one of those places that have the yarn stuffed into bins. You know, the kind where if you pull out one ball, the rest of the bin falls out? Yeah, one of those. And their yarns are arranged by color.
But after spending the morning at the hospital with my Mom, I was in need of some yarn therapy. I brought two projects with me to work on but they're both relatively easy. I needed something to get lost in.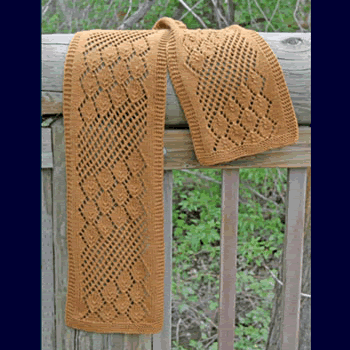 This is Fiber Trends "Streaming Leaves Lace" scarf. I'm going to make it in the green colorway of the Piccadilly, number 307 on the thinger card above. I hope it all comes together.
In other news, my brother is leasing me his cat while I'm here. Her name is Lola and she's a roly poly calico with the sweetest personality. Hopefully I'll have pictures tomorrow. Keep your fingers crossed.