Lace Land
I'm participating in a lace swap that is very cool. Basically you send your swap pal the yarn AND the pattern to make something lovely. And you can throw in whatever else you feel like. Well today I got my package and I am THRILLED.
This is 1,533 yards of Grignasco Merino Silk. I think this may very well be the ultimate lace yarn. It is so soft and I think it's going to drape beautifully. I am quite in love with it. And the color is much nicer than my crappy picture shows. The composition is 75% Merino Extrafine and 25% silk. And this is the pattern which came with it ...
Here we are looking at Fiddlestick's Paisley Long Shawl, or as I now refer to it, my life's work. Is it not gorgeous? This is truly something to aspire to. And I am DYING to start it. But I'm thinking I might need a little more lace practice. Considering I've done ... one lace scarf and half of a pair of lace socks. But maybe I could just do the gauge swatch to *see* what it'll look like.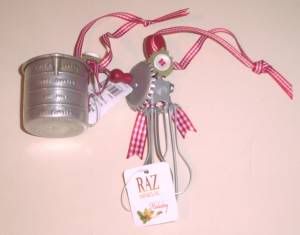 Is it too early to think about Christmas? So I can set up my tree and put these darling ornaments on it? In case it's not obvious, it's a measuring cup and a hand beater. Because I like to bake and all.
These are my two new best friends. In a startling burst of originality I have named them "Knit" and "Purl." Andy thinks they're cat toys. If I could make things like these two little guys I'd die a happy woman. Aren't they adorable? They're going to keep me company on my drive back to Canada. I love them, I want some more! My Pal also sent me some lemon drops and orange drops which are safely stowed in the car for consumption on the Big Trip Home.
And where did all these wonderful gifts come from? My Lace Swap Pal Extraordinaire, Rosanna. Who, ironically, lives in Canada. So basically everything she sent me, except for the ornaments, is going back from whence it came.
THANK YOU, ROSANNA !!!!
I've lost count, is this my sixth trek bag or my seventh?
Regardless, I do believe it's my favorite. And check out those wonderful stitch markers (well, if you can) at the top of the bag. They are the PERFECT size for sock needles. PERFECT. I'd swap just for the stitch markers. That trek ... she's a genius.