Color Me Amazed
Last week I posted a mini-tirade about a new employee at one of my favorite yarn stores. The gist of the post was that this individual could use some serious improvement in her customer service skills. I try to give people the benefit of the doubt because I myself can be *ahem* difficult to deal with at times. But this woman had just rubbed me the wrong way too many times. Could I be the only one she annoyed? I didn't think so. And this yarn store has the best selection of Koigu anywhere, they HAVE to stay in business. Plus everyone else that works there is capital D delightful.
I had the day off from work today so of course I went back to the yarn store to see if there was anything new I needed to own. I know that one or two of the other ladies that work there read my blog. I wasn't too sure if I was going to be poked to death with knitting needles or not. I couldn't have been more wrong. As it turned out, my little rant was the icing on the cake (cake? did someone say CAKE?). Miss Unpleasant is no longer an employee at my Koigu haven. And (you'd better sit down for this part) the owner of the store presented me with a VERY generous gift certificate for taking the time to bring this issue to their attention. Did I say VERY generous? I meant VERY VERY generous. As in, when I opened the envelope the first words out of my mouth were, "Holy shit."
So dear readers, it would appear that we do have a voice when it comes to our LYS. If someone could use some remedial customer service training, it's up to you to speak up. In this day and age of online shopping the real advantage your LYS has is in the service they provide. Without our feedback, the snippy snot behind the cash register will continue to stuff eight balls of yarn into a two inch bag and throw your change at you. All while chatting with her best friend on the phone.
Now on to much happier subjects. She struck AGAIN !!!
My Other Secret Pal, who is no longer secret (Hi, Valerie!) has done it again. She's a crazy woman, she is. What we have here, from left to right, is a 9" X 5" loaf pan made from silicone (can it REALLY go in the oven?), a postcard of a pig fountain and mmmmm lemon curd. I am a citrus-aholic and could eat this stuff with a spoon right out of the jar. But that makes my tummy not very happy. You can use it as a spread or as pseudo-icing for .... lemon bread! See the connection? Lemon bread - loaf pan - lemon curd. That Valerie, she's a smart one. And not just because she has the letters p, h and d after her name.
THANK YOU OTHER NO LONGER SECRET PAL !!!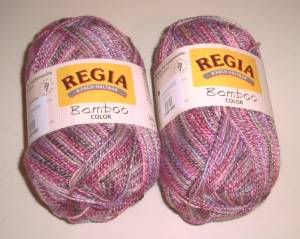 Finally, something new from Regia. I bought some bamboo yarn a few months back from South West Trading Company and HATED it. So I was a little reluctant to even touch this stuff. But once I did ... oh my. This yarn is ultra soft and destined to be a pair of socks. It's made from 45% bamboo, 40% superwash wool and 15% polyamid from the polyamid sheep. Be on the look out for this, it's nummy.