Horsin' Around
It may come as a surprise, perhaps even a shock, to some of you to find that I don't spend ALL my free time at the yarn store. I know, I know, I find it surprising too. But there are some things in life capable of dragging me out of the air conditioned comfort of my LYS. Such as ...
Ashkii
My good friend Rod has gone to Los Angeles this weekend for a rodeo. Rod has three horses but was only taking two so he needed someone to look after horse #3. April to the rescue. Here's Ashkii tonight after I groomed him. He's a three year old quarter horse/draft cross with the personality of a puppy dog. Ashkii's favorite thing to do is eat. "What's this sticking out of the back of your head? A pony tail? Is it edible?" Is there anything as attractive as hair that smells like horse spit?
General
Also looking for something to eat is General, another three year old. General is a Percheron/Suffolk cross. The basic translation of that is that he's going to be huge if he ever stops growing. If I thought he'd fit in the back seat of my car, I'd steal him in a minute.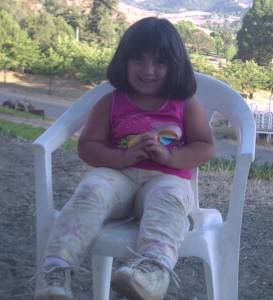 Savannah
This is Savannah, who isn't a horse. She's my BEST FRIEND. Ask her, she'll confirm it. Savannah is four years old and likes to help me scoop poop. She's the daughter of my friend, Traci, who owns ...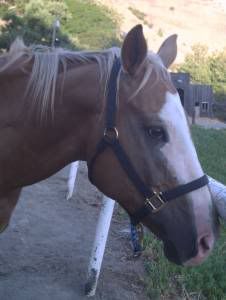 Honey
Honey is a quarter horse and is actually a boy. But that's what happens when you let your seven year old daughter name the horse. I'm helping Traci with Honey because she knows absolutely nothing about horses. I'm not what you'd call a horse trainer but I know enough to get him started with his ground manners.
But horses aren't all we have up at ol' Chapparal Ranch. Heck we've got your Thanksgiving dinner right here.
Wild Turkeys
This bunch usually cuts through the ranch every night about 7 o'clock on their way to the hills behind us. There are also deer, jack rabbits and ugh, rattlesnakes, up there as well. And yes, turkeys actually do say "gobble gobble." Another type of bird that hangs out at the ranch ...
A bath? A drink of water? I wasn't really sure what this guy was looking for but he was quite fascinated by the wash tub. Hard to believe that this is no more than 15 miles from the heart of Silicon Valley, eh?