All's Quiet On The Western Front
There's been some miscellaneous knitting happening here at Chez Insanity. The gusset has been started on the Baby Cable Rib sock.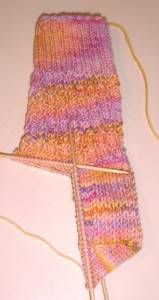 The heel flap for this sock has a garter stitch border on either side. It was a LOT easier to pick up stitches for the gusset that way. I was going to continue the cable rib on the instep stitches but I'm tired of doing ribbing so it'll be a plain stockinette footy.
I've also been working on the Climbing Vines Lace Scarf which is a project I started last night. But the lace pattern is so simple I'm debating whether or not I want to do it after all. The pattern calls for US size 10 needles. That's not knitting lace, that's knitting a scarf with strategically placed big holes. I'm also using Rowan's Summer Tweed for it and I'm not crazy about it either. Maybe I'll post a pic tomorrow and have a vote. Yeah, that's the ticket.