98% Animal, 2% Kid
I had hoped to have the first of the Yukon Leaves sock done by tonight. I may have underestimated a wee bit. I also did virtually no knitting yesterday because my shoulder was being stupid. But when knitting starts to make your back spasm it's time to put down the needles. In lieu of knitting pictures, we have the old standby ... horses, kids and a dog.
Savannah, who when asked if she wanted to come live with me, got a very serious look on her face and inquired, "Is your house dirty or clean?" And later in the day demanded we do a complete inspection of my car in case there "might be some presents in there." I don't remember being quite so outspoken when I was four. Of course, that was when dinosaurs walked the earth.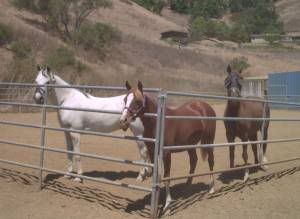 Markie, Cailie, and Red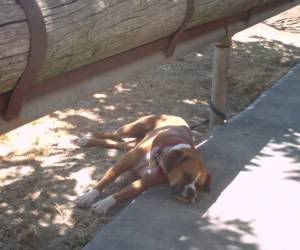 Sophie
General
My very favorite horse at the barn, General. He's also the youngest. Frightening, no? He's only three, so he'll continue growing for the next two years. Let's not think about how big he's going to be. He's not even broke to ride and already he towers over all the other horses in the barn. But sweet? Oh my God, he's like an oversized puppy.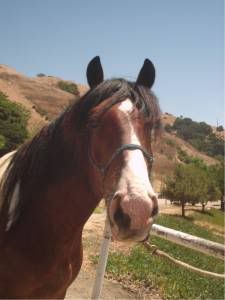 "Carrots?"
Here's Savannah's sister, Alexandra, off for her lesson. Damn kid rides better than I do. I swear, kids have NO fear when it comes to horses. I jump on a horse and the first thing I think of is how far down it is. I'm going to try and catch up with Alexandra so I'm starting lessons this week. I hope they have Internet access at the hospital.
Oh, I do have kntting news. Well yarn news anyways. Sort of. Dave has stocked his Cabin Cove Mercantile with a ton of new and wonderful yarns. Go over and check them out but leave some for ME. I'm serious, if that store is sold out by payday all you'll see on this blog for the next week are pictures of horse poop. Don't even think about suggesting that that would be an improvement ...