The Long And Winding Road
I need a swift ...
I don't want to wind any of these skeins into a ball. Usually I'm pretty good about winding yarn as soon as I get it but I seem to have gotten a bit behind here. So now it seems like a very daunting task to get all these wound up and then make them into neat little yarn cakes. I think a swift is definitely in order. Please disregard the messy end of my Harlot's Mums (second skein from the left) - the furry paws of mayhem got his claws into it.
One of my favorite yarn stores has hired an incompetent ditz. Why do I say she's incompetent? Well two weeks ago she wound a ball of yarn for me into a little yarn cake. After she gave it to me, I asked her, "Where's the end?" She looked rather condescendingly at me and replied, "In the middle." Now I don't know about you but one of the joys of having your yarn wound into a yarn cake is so that you can easily find the end. She then added, "Do you need me to FIND it for you?" I handed it back to her. After about 5 minutes she returned the ball to me with about 10 yards of yarn vomit pulled from the center, warning me not to complain about the vomit because after all, she had wound it correctly and it was my fault because I couldn't find the end. After I had knit my way through the yarn vomit I had to forcibly pull the yarn from the center because the ball was wound so tight.
Tonight I asked her if the store carried "Oat Couture" patterns. "What?" she answered. "Oat Couture, I think you carry their patterns. Do you know where they are?" I asked again. "I have no idea," the helpful clerk replied. She then returned to the store's Sweater Wizard where she was printing out a pattern for a customer. "How many stitches do I cast on?" wondered the newbie customer, holding a ball of chunky weight in her hand. "156 stitches," the clerk answered. The customer looked at me, somewhat confused. I looked at the clerk and asked, "Is she knitting the body in one piece on circular needles?" "No," snipped the clerk, "156 stitches on a straight for the back." In chunky weight. You may be thinking at this time that this had to be one particularly large customer but she wasn't. Turns out Miss Delightful had inadvertently doubled the measurement the customer gave her. Hello? Even if all you did was plug in the numbers, wouldn't you question the reasonableness of knitting 156 stitches of chunky weight for the back of a sweater?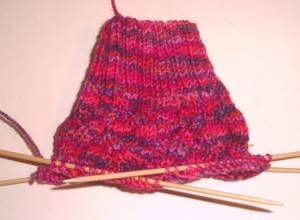 Since the skein I need for the second Baby Cable Rib sock is one that needs to be wound, I decided to start another sock. This is the Yukon Leaves pattern by Lela Conrad. Yes, I know you can't see the pattern in the picture. So go here to see a particularly drool worthy rendition. I am using ... Koiguuuuuuuuuu on size US 1. I like the Koigu on the 1's. It's firm but still has a bit of give.
Finally, the moment the entire world has been waiting for. The winner of today's mini contest is that baaaaaad girl herself, Sheepish Annie. Please to send snail mail info to Sakkasie@hotmail.com . Gracias, no queso por favor.