Bread
Today's rant is brought to you by the staff of life, aka bread. I like bread. I like bread even more than cake, believe it or not. I particularly like bread that doesn't taste like it's been processed sixteen times. You know the kind, a real hearty wheat bread, maybe it's got some weird seeds or oats thrown in for good measure. Unfortunately I live in the Bay Area. Apparently there's some kind of weird law that the only bread you can get in the Bay Area is this crap.
Sourdough. I hate sourdough. I don't care if it is the "State Bread." Well ... I don't know if we have a State bread but if we did it would be sourdough. This bread is CHEWY. Bread is not meant to be chewy. Gummi bears are chewy. Licorice is chewy. Bread, bread is not meant to be chewy. Or sour for that matter. It's called sourdough for a reason you know. I'm telling you, it is IMPOSSIBLE to make a decent peanut butter and banana sandwich with sourdough bread. Or any of those other "artisan" breads. We have a *lot* of artisan breads in California. Do you have artisan breads where you live? Artisan means you can charge $3.50 for a loaf of bread that is not only chewy, but will start growing mold two days after you buy it. And you buy it in a paper and cellophane bag which guarantees you will not just have moldy bread but stale bread too.
So I went online tonight to see if I could get some decent bread that way. I googled "bread online" and the first website was The Daily Bread. Great, I thought, they probably ship every day. Hello? A daily devotional? I want bread, for Pete's sake, not religion. God may have created peanut butter and bananas but he's not likely to make me a sandwich. I checked a bunch of other sites but really, I don't want to buy six loaves at once. Do you have good bread where you live? Would you send me a loaf?
In knitting news ...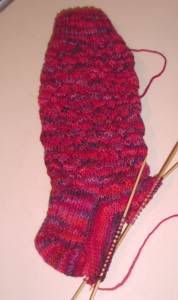 The sock continues to grow.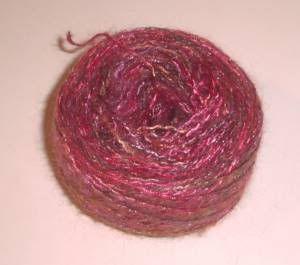 I continue to buy yarn.
This is Stacey Charles "Ritratto." Uh, mohair, nylon and something else. I love the colors, they make me think of maple leaves. Something lacey maybe. It's a DK weight, about 190 yards a ball. So two balls should be enough for a little scarf. I would really like to make a cardigan from this as well. If I was rich, that is.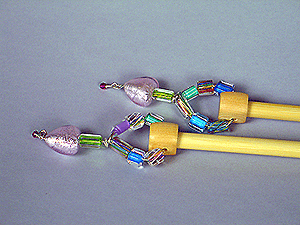 Beaded knitting needles - what will they think of next? They're from Growingzoe.com; I originally saw them in the Fall issue of Vogue Knitting. These needles are a size 13 but her website says she's happy to make them in whatever size you'd like. I wonder if the beads are heavy enough to throw your gauge off though?
Ick, someone's been in the litter box. Bye.