Speechless Times Two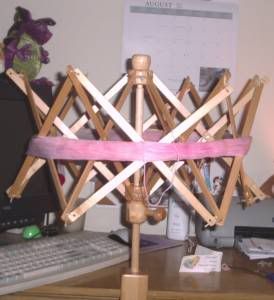 How is it possible to blog one week about the need for a swift and then have one show up on your doorstep the next week? What magical person could make this happen? Of course you've all guessed by now, I'm sure. It's the work of my Other No Longer Secret Pal, Valerie!!! Yes, I'm quite sure you'd all like me to introduce you to her so you could convince her that you too need an Other Secret Pal but forget it! She's mine! This woman's generosity is beyond comprehension. I'm quite sure I've never met anyone like her before. But for heaven's sake, Valerie, you need to STOP now. The swap is OVER. However, I'm sure my gratitude for all the wonderful gifts you've bestowed on me will never be over. Thank you from the bottom of my heart for everything.
Here's what you can make with a super fantastic swift like mine. Perfect little yarn cakes, not too loose, not too tight. Am I the only one who's overly particular about how tight their yarn cakes are wound? Probably.
This is item # 2 which left me speechless today ...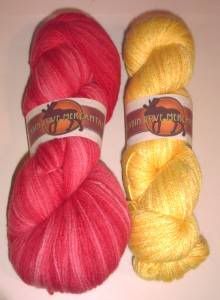 Have you EVER seen yarn saturated with so much color? Is this some amazing stuff or what? I've said it before and I'll say it again, Dave is the Monet Of Yarn. Obviously I liked these two skeins when I saw them on his website, I did order them after all. But when I opened the box today I couldn't believe my eyes. I am simply in love with both of them. I think the yellow looks like liquid sunshine. It's 50% silk and 50% wool. If you're in a position to treat yourself, I can't recommend this blend highly enough. Next to baby alpaca, I've never felt yarn so soft and silky. The coral on the left is 100% merino and feels terrific as well. I love the varigation in this and it's got a really tight twist. Fabulous stuff! Thank you, Dave, for making such beautiful yarn!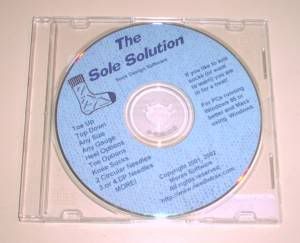 Sock designing software, how cool is this? So many times I've seen interesting stitch patterns and wished I'd had socks with that pattern. With this software all you do is plunk in the pattern, choose your heel and toe and what kind of needles you want to use and it spits out the instructions for making the socks. I don't really think of that as "designing" per se. I mean, doesn't the term "design" imply it's something new you thought up all by yourself? Regardless, I think it'll be fun. And we can always use more fun around here.