Better Living Through Pharmaceuticals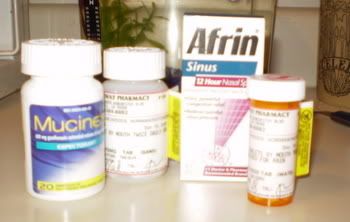 Blah, blah, blah, sinus infection, take lots of medicine. The sinus infection seems to be gone now but I still have a bit of a cold. Of course, I'd probably be completely better by now if I wasn't doing stupid things like exercising a horse at 8pm dressed in only a t-shirt and jeans in December. Or hanging out at the ranch for three hours yesterday so Leland and Stanton could get their hooves trimmed. But obviously I'm not on death's doorstep because we have ... new yarn in the house!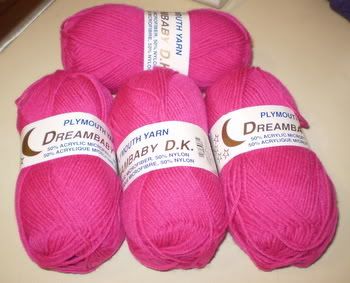 Actually I'm not even sure we can do this stuff the honor of calling it "yarn." It's 50% acrylic microfiber (*love* those microfiber sheep - so tiny!) and 50% nylon. It's for this ...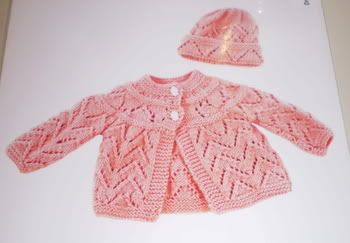 My boss at the House Of Torture just had his first grandchild. He is beyond thrilled. Each morning the department receives an e-mail where the subject is "Important - Required Reading." Of course the first time I got one of these I thought, "Oh crap, lay-offs." Imagine my surprise upon opening that first e-mail to see a new picture of his granddaughter. She's very adorable. And would probably like a pink "Matinee Cardigan" to wear. But it won't be made from Debbie Bliss' Baby Cashmerino, which was my first choice. A little pricey for a baby I'll probably never meet.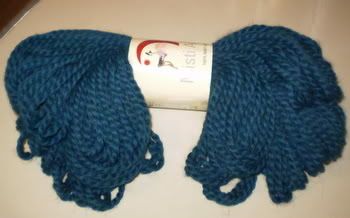 Hey, it's almost Christmas! Time to start the ol' Christmas knitting! Actually, as a rule I don't participate in the madness that is knitting for the season. But one of the trainers at the ranch surprised the beejeebus out of me by giving me a gift. So I'm knitting her a scarf from this lovely skein of Misti Alpaca Chunky. On size 11's. It'll go zOOooOOoom.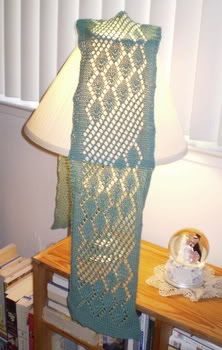 Another lace on a lamp picture! Back from Blocker Extraordinaire, Julie, is Fiber Trends "Streaming Leaves." I suppose it would have helped if I'd taken some close-up shots so you could see the magnificent work Julie did in blocking this but I'm sick and I don't want to.