Sickly Sunday

I have a cold. This happens about once every four years. It makes me very cranky. Of course it has nothing to do with the fact that I refuse to wear a coat and walk around in t-shirts all year. After all, I'm Canadian. I'm not some wimpy Californian who's teeth chatter once the thermometer dips below 60 degrees. I'm still running the A/C in my car, for heaven's sake. That's not blood in my veins, it's a combination of beer and maple syrup.

However, this weekend my staunch Canadian fortitude dropped the ball. I am sniffling. I am snorting. I woke up at 2:30am because MY NOSE WAS DRIPPING ON MY HAND. I've lost my appetite. Can death be far behind? Hey! Who just whispered, "I wonder who gets her stash?"

Needless to say I've been pretty much couch bound all weekend. Which makes me cranky too. It's the weekend. I. have. things. to. do. But my body refused to comply.

So I knit. What else was there?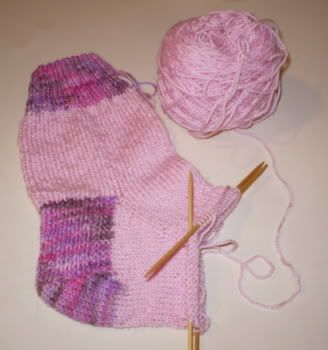 The Koigu Odd Ball Sock is progressing nicely. I was a bit worried that there was too much contrast between the variegated yarn and the solid but now that I'm on my way down the foot I think it works. I *think* I'm going to have enough yarn to do sock #2. Which would be great because then I can make a second pair from this.

Maybe I'll do the cuff, heel and toe in the solid and the rest in the variegated. Oh I know, I'm too innovative for words. Argosy is also coming along. I don't know about the Noro Silk Garden Lite I'm using though. I mean, I love the colors but what's with this uneven yarn thickness thing? Is that part of it's charm? I dunno, yarn that goes from a chunky thickness to a fingering weight thickness kinda makes me wonder if they've got monkeys spinning this stuff.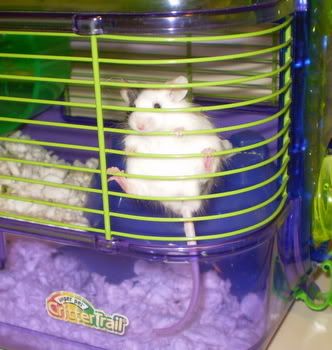 Clover says, "Do these horizontal bars make me look fat?"