Goin' Sideways
Good God.
She's knitting -another- scarf.
But at least this one is going sideways. Sorta.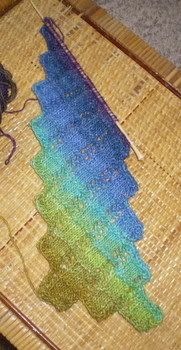 Ask me how much I love this pattern. Go ahead, ask me. I LOVE IT. This is from the new Winter 2006 Knitty. It's called Argosy and it's fun fun fun to knit. You should knit one too so you can have some fun. At the very least, check out the pattern so you can see the far superior pictures of this little gem.
I know, you all think I'm turning this blog into the Internet's #1 resource for scarf patterns but there was a SIGN. I had the exact yarn the pattern called for in my stash! And you know how I feel about signs. One must always obey the signs. Stop. Go. Knit. This is Noro's Silk Garden Lite in color 2014. Yes, I actually still have the ball band. Another sign.

Once a hat, now a sock. I originally bought this yarn to crochet a hat. It's Koigu, for those of you who care. I mis-read the pattern. I thought the pattern said one ball each color. Nay. It said TWO balls of each color. That's four balls of Koigu FOR A HAT. That's a mighty expensive hat. Especially for someone who likes to crochet hats but never wears them. So in lieu of a hat, I'm hoping to get TWO very short socks out of two balls. It might work, it might not. I know, I can barely stand the suspense myself.