The Case Of The Missing Gift Certificate

Some of you may recall a few months back when I posted a bit of a rant about my favorite LYS. They had hired a new clerk who apparently slept through the "Customer Service" class. You may also recall that this clerk was let go and I was rewarded with a gift certificate for bringing the issue to management's attention. A very GENEROUS gift certificate. A gift certificate that I have yet to spend. I was saving it for when a) I was low on funds and b) I needed a yarn fix.

I have now met the criteria for spending the gift certificate.

But ...

But ...

WHERE HAS THE DAMN THING GONE?

I clearly, oh so clearly, remember putting it in one of my many yarn containing containers. I thought it was a rather clever idea at the time. Plus I was trying to conceal it from anyone who might break in and try to steal it. Take the friggin' T.V. I don't care but don't you dare think about taking my gift certificate.

This entire afternoon has been spent rummaging through Rubbermaid boxes hoping to find it. I removed every single ball or skein of yarn in each container, flipped through all the pattern books that were in the containers in case it was stuck between the pages and have come to this conclusion. It's gone. Fuck.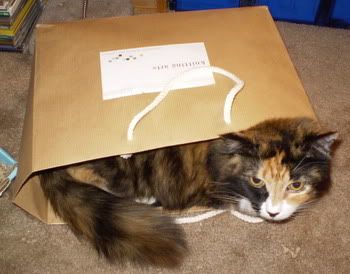 DeeDee says, "But Mom, how will you fill up this bag again?"
Of course, being the anal accountant that I am, I couldn't resist organizing my yarn as I was putting it away. This process also helps to serve in reminding me that I don't really NEED any more yarn. I discovered a number of things while I was organizing. First, I definitely need to stop buying single balls of yarn. Or buy that "One Skein" book. Second, I discovered that the lace / fingering weight selection is at least double the other weights. Yes, I did organize the containers by yarn weight. See the anal comment above.
My third discovery was this ...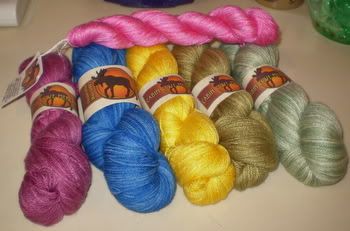 I seem to have a bit of a Cabin Cove Mercantile addiction goin' on. But can you blame me? I mean, look at those COLORS! Of all the brands of yarn I have, ol' CCM seems to be in the lead. Honest, I didn't think I owned six skeins of this fantastic yarn.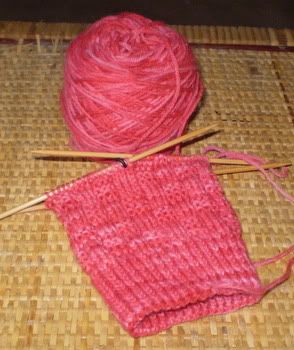 Because I don't, I own seven! New sock! This is the Basket Weave Rib sock from Sensational Knitted Socks by Charlene Schurch. The pattern is much more obvious in real life than it is in the picture. For some reason this color makes me very happy. I'm knitting it on US 2.5 and I'm getting a nice, firm fabric. I've said it before and I shall say it again, Dave is the Monet of yarn dying. So please go buy whatever is in his store before I do. Please.