Thank You, Seahawks
A most sincere thanks to the Seattle Seahawks for trouncing the Oakland Raiders this evening. For with this defeat, I, April The Football Goddess, have won this week's office football pool!
YAYAYAYAYAYA!
Umm, pardon me. Being a woman AND Canadian I take a certain amount of delight in kicking the butts of my male American co-workers. I *told* them the Spongebob Squarepants sticker on my picks sheet guaranteed my win. Go Spongebob!
OK, back to knitting. Aren't these purdy?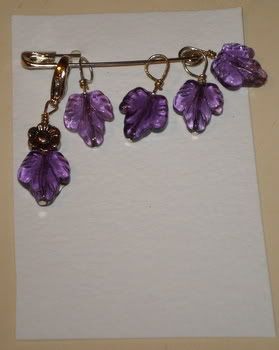 Hmm, I suppose I could have cropped off the bottom of the tag. Anyway, Etsy strikes again; this is quickly becoming my #1 shopping spot. But being new to the world of Etsy I rely on other people to point me in the right direction. I'd like to take a moment here to thank
Sheepish Annie
,
trek
,
Wendy Johnson
and
aija
for all helping me spend my money via the links in their blogs.
These lovely stitch markers are from
Sugar Bunny Boulevard.
And if you can believe it, they were only $5.00. Even harder to believe is the fact that I ordered them on Friday and they were in my mailbox TODAY. I am so pleased with these. They're maple leaves (O' Canada) and they're amethyst (my birthstone). How could I not buy them? I still can't believe they were only $5.00, I feel like I ripped off the poor seller.
April's version of a PSA - If you like a good Zinfandel (and who doesn't), I highly recommend Rosenblum Cellar's "Vintner's Cuvee XXIX". Fancy name, not so fancy price. I paid $8.99 for mine and I'm seriously considering going back and buying oh ... I dunno ... 20 more bottles. I'm not usually a big Zin fan but this bottle may have shown me the light. Or perhaps I've just had one glass too many. By the way, this wine would pair delightfully with Dave's Crepes. Check out his post, the man is too artistic for his own good.