Blocking For Bucks
You knit and you knit and you knit and all you end up with is something that looks like, as the Yarn Harlot so eloquently puts it, "ass." Or what appears to be a big pile of green string. Take your pick.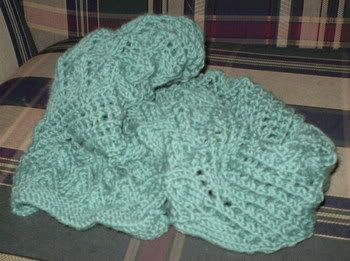 But then you grab your sewing basket, pin a few pins and it looks marginally better.



This would be the Streaming Leaves Scarf from Fiber Trends, off the needles as of 10pm this evening. I knit about 80% of this scarf while I was in Vancouver with my Mom. So I don't think I'll be giving it away. Anyway, this yarn was purchased in Canada, it's King Cole's Merino Blend. They're a British company and I really like the yarn, although I'm not wild about the color. But I *love* the pattern. The pattern repeat is over 64 rows so it was challenging enough to keep my interest but not so difficult that I gave up (obviously). It has 3, count 'em 3, mistakes in it but do I care? Nopers.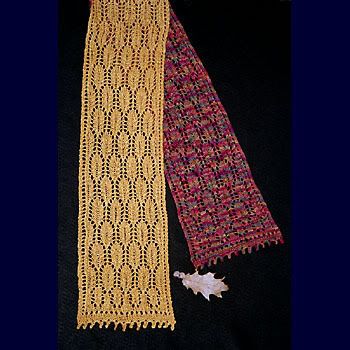 Next up, another Fiber Trends pattern that we've all seen way too many times on this blog. Let's hope that this ...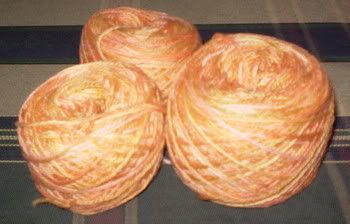 ... will be the magical yarn that makes this scarf (Oak Leaf And Acorn) come to life. I've given up trying to keep track of how many times I've started and stopped this pattern. This particular yarn is Fearless Fiber's sock yarn, the name of the colorway "I've Forgotten."
Speaking of lacy scarves, is there anyone out there willing to block for bucks? I am unable to block because (a) well I don't know how to and I don't want to learn, (b) Andy, (c) Andy, (d) nowhere to block where Andy won't be able to get at the scarf. I have two lace scarves that need to be blocked. If you're interested in picking up a few extra dollars please let me know at Sakkasie@hotmail.com .
What's with all the lace scarves you ask? Well I'm in training for this ...

This is Scheherazade from the very talented Melanie of Pink Lemon Twist. The pattern has been purhased, the yarn ordered and the training program in full swing. Hey, who's that mumbling "April's lost her friggin' mind"?