Signs It's Payday
New magazines! The Interweave Knits has quite a few nice patterns in it, particularly if you like scarves. There are at least three or four scarf patterns but I guess they're the universal gift when you're a knitter. I happen to enjoy knitting scarves because there's NO FINISHING. Unless of course they're lace and then they're destined to sit in a Ziploc baggie for all eternity since I can't block to save my life. Haven't looked at the Vogue Knitting yet because I've been busy … knitting.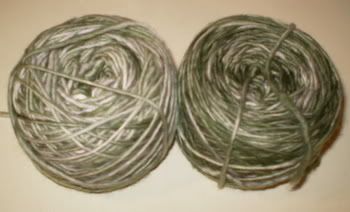 Malabrigo for either "My So Called Scarf" or the reversible scarf pattern posted by the Yarn Harlot last week. This is going to be for a co-worker who keeps bugging me to teach her to knit but then never follows through. It'll either inspire her or quench her desire for a knitted item and then I won't need to teach her. I'm hoping for the latter.
Springtime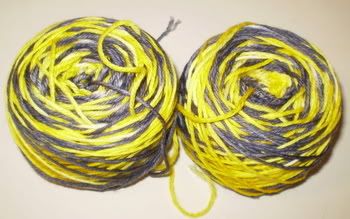 Bumblebee
From the Cavy Shop on Etsy we have two different color ways, both DK weight yarn. Yes, I am still making socks as thick as your wrist thank you very much. Sure they're missing the finesse of fingering weight socks but my fingers don't cramp and my shoulders don't go into spasms so its lumberjack socks for me. And at only 48 stitches per round we're goin' zOOooOOoom. Well zoom as in turtle zoom. Not zoom as in Wendy Johnson zoom.