Hope Springs Eternal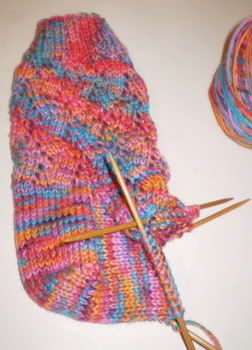 I like to think that I have pretty decent taste in yarn. However, the picture above might indicate otherwise. Umm. Yeah. Well. I suppose I could blame it on my monitor. That the colors didn't REALLY look like this. Or I could lie and say someone gave it to me. Or that it was a real deal and I only paid a dollar for it. But no. I bought it and paid full price for it. Why? Well because I read on one of the eight bazillion sock boards I frequent that this yarn was the quintessential sock yarn. And you know what? They might be right.
This particular yarn is a JOY to knit with. Which may be why I'm already on the foot. That and I'm knitting it double stranded on US 3's. You see, my little fingers refuse to knit with anything smaller. This is an experiment to see if I can get a decent fabric using two strands of sock weight and larger DPN's. Yeah, they'll probably be too thick to wear in my sneakers but hey, I live in California, I can wear Birkenstocks all year long with socks and be a total geek. Now if only this yarn would magically transform itself into a color I actually LIKE.
I'm sure you've seen them while you've been standing in line at the grocery store. Those glossy booklets proclaiming, "500 Healthy Casserole Recipes From Cheez Whiz!", "Homemade Cakes From A Mix!", "Crock Pot Cuisine - A Photo Of Each Recipe!". Well now, they've added knitting to the mix (no pun intended). For the low, low price of $3.99 I snagged this little gem the other day at Safeway. The first half of the book is a very decent primer on knitting which is then followed by 17 baby patterns. And they're nice patterns to boot. Here's hoping the instructions don't read, "Cast on 68 stitches, add one 14 oz. can peeled and crushed tomatoes."