Three Hours Of "24"
Equals 12 inches of scarf.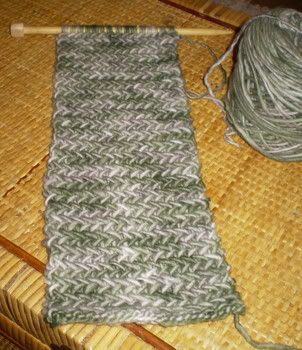 This is My So Called Scarf from Sheep In The City. I'm sure the talented Sheep has another name, I just don't know what it is.
As you might have noticed, I've been on a bit of a lace kick lately. However, I can only knit lace (successfully) in complete silence. Which is OK most of the time but not when I want to see Jack Bauer save the world. "Damn it, I'm running out of time!"
I've been wanting to make this particular pattern for ages. And since it's dead easy with the stitch pattern over just 2 rows, it's perfect T.V. knitting. What could I do? I had to cast on for a new scarf. This is Malabrigo in the colorway "Vetiver." I don't know what Vetiver means. I thought it was Spanish so I typed it into Babel Fish and Babel Fish returned "to vetiver." So I'm not really knitting, I'm "vetivering." This makes perfect sense in my world, maybe not in yours.
I am totally and completely in love with this yarn, regardless of what vetiver means. It's a worsted weight but I'm knitting it on US 11's. It's knitting up so soft and the stitch pattern makes the fabric dense without being bulky. And the pattern itself, while easy, still requires a bit of concentration so it's not boring. Well at least to my little hamster brain. I highly recommend both pattern and yarn for all your Christmas gift making.
As further proof that my little apartment was rockin' last night ...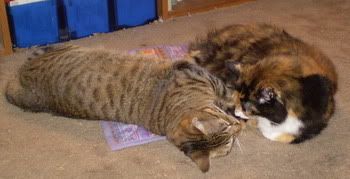 Andy, wake up, it's Saturday night!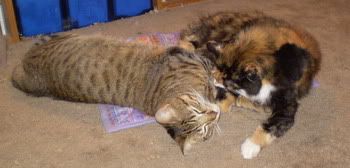 Dude, wake up! I scored a bag of 'nip!



"Whoa DeeDee, that's some serious sh!& ..."