If It Quacks Like A Duck ...
Then it must be a sock!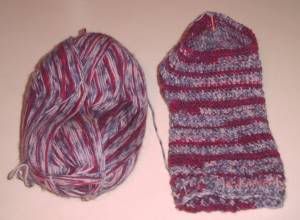 Well almost a sock. We seem to be missing the "foot" part of the sock. Yes, THE SOCK is almost complete. And I desperately wish that I could tell you how much fun this was! How fulfilling it felt! How every round left me wanting more! What a delight it was to crochet with a toothpick! But ... umm ... no. Me no likey crocheting socks. A "D" hook and sock yarn is not a party in the making. Well most of the aggravation was caused by a particular stitch that I'm assuming one does to reinforce the heel called the "Long Split Single Crochet" (or lssc to us sock makers). If you should ever come across a pattern which calls for this stitch, run away. And I'm not crazy about the colors in this yarn and lordy knows, I'm all about the color. Why am I crocheting a sock in red, white and blue when I'm Canadian, eh?
The Herrschner's box came yesterday! Hooray! And this is what was in it -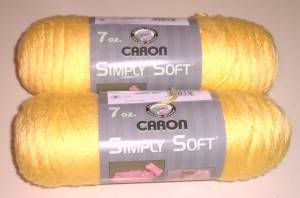 Exhibit # 1
And some of this too -
Exhibit # 2
I think it's rather obvious what exhibit # 1 is. On sale for $1.77 and the color is "Jonquil" which I believe is discontinued as it's no longer on the Caron website. Last night I got a weird notion in my head that this yarn would make a nice hat so I started on Dot's EL Brimmed Hat (I don't know what the E or the L stands for). But after doing a few rounds I came to the realization that hell would probably have to freeze over before I'd wear a hat crocheted in a color suitable for a McDonald's employee. Now I'm thinking ... baby blanket.
Exhibit # 2 - Filati Bertagna Granada. Which, for all I know, means "overpriced Italian yarn." But I'm a savvy Internet shopper and bought this for the low, low price of $2.97 per ball. Regular Herrschner price - $6.99. It's 60% cotton and 40% nylon so who knows what it will become. Probably a "wearable."