The Weekend
Things were pretty quiet here at the old homestead this weekend. Most of it was spent either working or sitting on the couch. However, I was able to conduct the first official "Tangled Yarn Analysis." Here are my findings.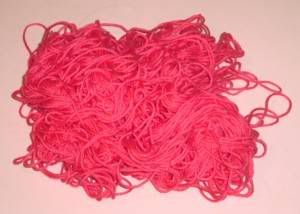 Yarn Attacked - Takhi Cotton Classic
100% Cotton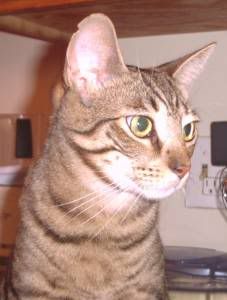 The Attacker
Findings:
Approximate length of attack - 10 Minutes
Location of attack - Bedroom
Time taken to untangle yarn - 85 Minutes
Takhi Cotton Classic was a relatively easy yarn to unravel. This may have had something to do with the fact that I had just taken it off the yarn winder and put it on my desk. I must say that I was quite surprised that this particular ball of yarn was assaulted given it's 100% cotton composition. It's generally only the wool or wool blends that are prone to attack. Regardless, as I previously mentioned, the yarn was fairly easy to untangle with very few knots. However, this yarn does have substantial yardage which slowed the process significantly. Therefore, on a scale of 1 to 10, I would give this yarn a 6 on ease of unravelling.
In other news, strip # 2 of the Mile-A-Minute afghan was completed and joined to strip # 1.
This minor accomplishment was achieved while watching the last seven episodes of the Soprano's Season 5 and the first four episodes of Season 2 of "24".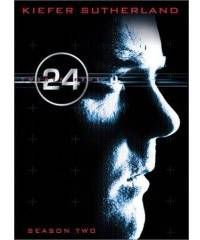 Don't you love Kiefer Sutherland? How could you not - he's Canadian after all. Hooray for Canada! Which means it's time for another "Made In Canada" question. Did I segue nicely into this or what? OK, it's a two part question. First of all, name Kiefer Sutherland's father and secondly, name the woman that left Kiefer at the altar (more or less). Remember, if you've won in the last 4 weeks, have patience, your turn will come again soon. Please post your answer to the blog. Prize will be posted tomorrow.
And what's a weekend without a little light reading?
Adolf Hitler - The Definitive Biography