Just Say No To Crocheted Socks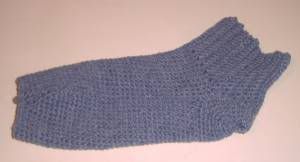 U-G-L-Y. Even without the toe and heel sewn it's easy to see there's NO hope for this crocheted sock. My apologies to those who have made lovely crocheted socks but it's just not in the cards for me. I worked on this thing for six hours today. Not only is it way too long, the ribbing is loose and it's too thick for my shoes. This is the "Socks In Shoes" pattern from CrochetMe. I know lots of people have had fantastic success with that pattern and I admit, it is super simple. Maybe a smaller hook? The pattern calls for a "G" but I got gauge using an "F". I think I shoulda gone "E". This is Bernat's new sock yarn which is a very nice yarn despite being 100% acrylic. What the heck, for a test sock who cares what it's made of. I liked it MUCH better than the pricey German wool yarn I used to make my last failed sock.
Does anyone out there in Blogland own a copy of "Socks Soar On Circular Needles" by Cat Bordi? If so, would you recommend it to someone with oodles of knitting experience but no sock making experience? Please, don't suggest DPN's. I hate DPN's. Hate them. Oh by the way, Cindy, I found mine so you can have them whenever.
Here's something I do like.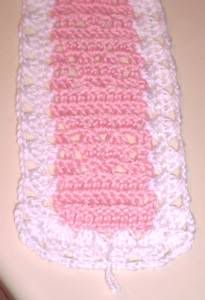 The first of seven strips for the Mile-A-Minute is done. I did the center Wednesday night and the edging Thursday night. This is a dead easy pattern but I love the way it works up. And what's not to like about "Simply Soft"?
Today while I was home waiting for the less than capable Comcast cable man to show up, I organized some of my stash.
Here is the Box O' 100% Acrylic. That's Norma standing in the box, she's a camera cow. Don't you love a well organized stash? I know I do. And it's very comforting knowing exactly what you have stash-wise in case of a pending yarn makers strike or some other horrible disaster.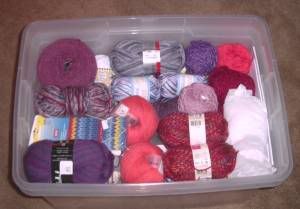 Here is the Box 'O Something Other Than 100% Acrylic. Look there's Trek's sock yarn right at the front waiting to be taken to the Post Office tomorrow. Oh and lookee there, circular needles. Hey, there's two more balls of sock yarn in there as well - I wonder why no one has made anything with them yet? And there's Renee's scarf yarn. And a mauve ball of Louisa Harding's "Aran Kashmir." Let me tell you, that yarn is delightfully easy to untangle after Andy's beat it into submission. It practically untangles itself. I'm thinking of designing a blog devoted strictly to rating yarn based on how easy it is to untangle after a kitten has had 10 minutes with it.
Have a wonderful weekend everyone!