The Queen Is Pleased
I know this may come as a shock to some of you, but perhaps you have already begun to suspect this. I am the living reincarnation of Elizabeth I. Or so I like to think. This realization did not come overnight. It was only after reading many, many historical tomes that the similarities became incredibly obvious. For one, my middle name is Elizabeth. Indeed. For a number of years I had red hair. Of course this was through the skill of my lovely stylist but let's not nitpick. I occasionally speak in the third person. I have been to England. Need I carry on? I thought not.
Anyway, the Queen (that would be me) was most pleased to come across these three patterns.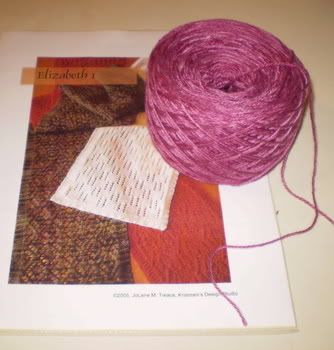 These scarves were designed based on Elizabeth I's life. This is truly an honour (notice British spelling of "honour", another clue). Of course I must make all three. And naturally nothing would do for their creation other than Cabin Cove Mercantile fingering weight yarn, 50% wool, 50% silk. In the colorway Orchid. "Dainty Bess" looks very beautiful knit in this yarn. I know this because I knit 30 rows and THEN remembered something about a "garter stitch border." Oops. This yarn frogs nicely. The Queen is pleased.
The Queen is also pleased about this recent gift from her loyal subject,
trek
.
Lots of lace weight yarn. Lots. The blue will be used for Evelyn Clark's "Flower Basket Shawl", the red yarn for Knitspot's "Orchard Plume Scarf". Thank you, dear trekster.
The Queen would also like to thank her loyal subjects at Yarndogs in Los Gatos for having such delightful things to purchase, not the least of which was a Crystal Palace circular needle. And Frog Tree alpaca sportweight for socks. It gets rather chilly in the castle.
Yes, the Queen is pleased.