Just Follow The Pattern, Stupid
The too small "Fetching" fingerless gloves found a new home with the House Of Torture's V.P. of Marketing today. She's one of the few people I know who actually appreciates handknitted items. I gave her my version of "My So Called Scarf" about two months ago and not a week goes by that she doesn't wear it. So she was quite thrilled to find out that I had fat hands while she had petite. She wore them all day. Can't ask for much more than that.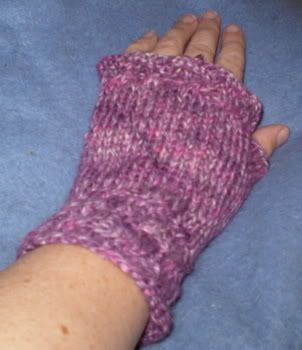 And I am extremely happy to report that actually following the pattern will result in a pair of gloves that fit. I'll try to get a better picture of the stitch detail once glove #2 is finished. However, allow me to go on record as saying I adore this pattern. I can see a number of pairs of these in my future. I may even follow the pattern again.