It's A Bird, It's A Plane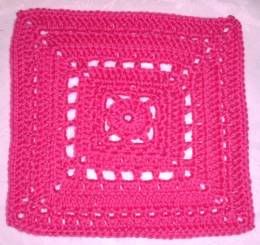 It's a Granny Square! Yes fellow crocheters, the impossible has occurred. I have finally made a Granny Square. Are you as excited as I am? Well if you're not that's OK, because I'm EXCITED! It's been a long and difficult journey on the road to Granny Squareville but I have finally arrived. Well almost arrived. If you look closely (and really, I'd rather you didn't) there is one obvious mistake. Also, according to the pattern instructions, this is supposed to be a 12" square. According to my tape measure I've fallen oh ... about 2 1/2" short of the mark. But that's OK too, because it's 2 1/2" short ALL THE WAY AROUND. Which according to the rules of geometry (?) means it's a square. The pattern is "Gridlock" by Chris Simon and I worked it up in Caron's Simply Soft Brites - Watermelon. The pattern said to use an "H" hook but I think I'll try a "J" for the next one since, as previously stated, this square was too small. Or maybe I was just tense. It's possible.
More exciting news - we've had a recent addition to the family. Meet Rosie the Rat. Here she is getting acquainted with Isabelle (on the left) and Maybe Bruce (on the right). It's not a really great picture of her but I'm sure it's quite obvious she's the cutest rat in the entire world. I've brought her into work with me. Now there are two semi-intelligent creatures here at the House of Torture.
In technological news, Blogger and my home computer are not getting along. After I upload pictures to Blogger my system HANGS. No amount of keyboard pounding, foul language or waving of a screwdriver will convince my computer to unhang itself. And, as with most computer problems, this happens randomly. So until I get a new computer, I'll blog from work!